Potentia Incognitum

There are hundreds of dark, cozy nightspots in Hollywood, nested in dark alleys the way swimming pools fill the sloping curves of the Hollywood Hills. In any given bar, on any given night, a handful of musicians line up at a small stage in the corner, taking turns in battle: their tunes versus inane hipster smalltalk and the sound of ice clinking in $15 drinks.
Most artists slink home, guitars strapped to their backs, defeated.
In the past three years, Eliza Rickman has worked her way through the musical ranks, studying piano performance at college (where she also discovered her amazing singing voice), gathering a small army of talented musicians, and jumping into the fray armed with nothing but a toy piano that she purchased out of necessity (It's hard to lug a regular piano around Hollywood from show to show), but which has become her calling card.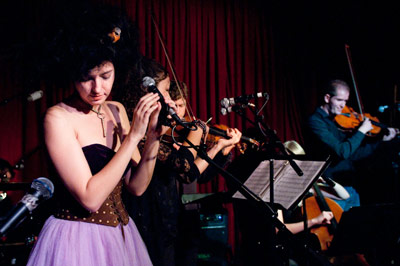 Seeing her stand on stage before a show it's hard to believe the vocal bravado that's contained within her tiny frame. While the clothing style she chooses for performances (vintage dresses, wild hair, an occasional fake bird nested on her head) may suggest Tim Burtonish angst, the music that emanate from her throat and fingertips sounds more like gothic opera with an occasional dash of vaudeville.


Whether she's plinking at her toy piano accompanied only by a bass drum, or backed by a full band, Rickman's stage presence has the gravity of a seasoned performer, capable of pulling the attention of the most introspective barfly nursing a beer in his back-corner booth.
These days, she is pushing her music past those piano key boundaries, adding more strings, accordion, even experimenting with using a wine bottle for percussion. At a recent show at the Hotel Cafe in Hollywood, Rickman started her set with a looping petal, which she'd purchased and learn to use just a few days before. On stage she recorded sounds (cranking gears, clanking metal, clonking wood) along with vocals (mostly woops and hollers). The result: "Get Your Paws Off My Pigtails, You Left-Handed Devil!", a mesmerizing song which so easily could have been a gimmick, but instead set a tone for the entire performance.
One-woman shows are great, but like every successful artist Rickman surrounds herself with equally talented company. Her bandmates Alex Russell and Quinn Karges (on the violin and viola, respectively), Karen Hall (cello), and Robert DeLong (drums/percussion) have been performing with Rickman since college, or soon thereafter. They form a close-knit unit — young artists playing with the seamless communication of performance veterans.
Rickman recently recorded her first full-length album in Chicago, taking most of her LA-based band along with her, which bodes well for a great finished product. So keep checking your iTunes. With their talent, commitment, and a little luck, Eliza Rickman and gang should be saturating the pop-culture airwaves in 2011.

Eliza's latest music video:
Music Video by
Mindfruit Films
The Spring 2011 update also includes a Photo Essay of Eliza Rickman and an Interview. with the songstress.
Posted on 03/24/2011 01:00 AM by James Roland