Gilded Lilies and Cinnamon Bones


RedFence Writer Sarah Carman
sat down with Eliza Rickman, our new favorite singer-songwriter. The two discussed everything from toy pianos to singing backwards, wine bottle percussion and Napoleon Bonapart.
Backstory:
'My parents were kind of like, "Where did she get this?
We are not musical; what is going on?"'
RedFence: Well, I'll just jump right in and go for it. Who are your primary influences?
Eliza Rickman: First person I ever listened to that really made me think that I want to do this was Siouxsie Sioux. In particular, Susie and the band did an EP back in I think 1984, where they recorded four songs with strings and it's not like anything they'd ever done before or since and I listened to that while I was in college (at the time I was a piano performance student). I fell in love with strings and I thought I don't really know how to do any of that but I would love to figure it out. She's a big one, and also Nick Cave. And then when I was graduating college my friend introduced me to Andrew Bird, who I've been in love with ever since.
RF: Do you come from a musical family?
ER: I do not. My dad is a pastor and my mom is the church secretary at the church he works at. For a really long time my parents were kind of like "where did she get this? We are not musical, what is going on?" And then I think long after my grandmother died my dad found out that [she] had played piano at churches when she was a kid, like when she was 13 or 14, and so he didn't ever hear her. But my dad's mother was a phenomenal pianist. For whatever reason she quit before she had him but if there's some kind of magical, musical blood that runs through my family she did have it.
RF: You play the piano, the toy piano, the kazoo, the bass drum, and most recently the accordion. Do you have a favorite instrument or are you always just picking up new instruments to try?
ER: It's funny, I spent so many years studying piano and now, I guess, I am a pianist. But now I don't really think of myself as a pianist, I think of myself as a singer. And also people seem to identify that first. They'll be like "oh I love your voice," but then they'll be like "oh, and your piano skills are good." I feel like I'm primarily a singer, which is a little bit odd because I started singing much later in life. I started playing piano when I was only about eight and I started singing when I was 20 and only because I had to.
RF: Why did you have to?
ER: When I started out in junior college I thought that I would be an accompanist for schools and choirs and every music major has to take a voice class. I tried to fight that for so long because I hated the sound of my voice. You wouldn't even hear me sing happy birthday to anybody. So in taking my junior college classes I went to my beginning voice class and I was mortified. I could feel like acne growing under my skin I was so anxious about it. The teacher, as luck would have it, had me get up and sing in front of everybody. She had me sing some stupid Irish folk song and my knees were knocking and I'm pretty sure I sounded dreadful. But afterwards she said "Oh your voice is lovely, you should join the women's choir." And I thought, Oh gosh, she's just being nice, but she didn't say that to anybody else that day and there were about ten or twelve other people that sang. That was the first thing that made me feel like maybe I don't sound horrible. And it was kind of the extra kick in the rear that I needed to feel like I could sing in public. From that point I borrowed a friend's four track recorder and sang into it. I kind of taught myself to sing in a couple of weeks. I would sing and record it and listen back and go, Oh, I really don't like that I'm not going to do that again, or I would say Okay, that sounded good, I'll sing more like that in the future.
RF: Kind of a crazy way to discover that you're a singer.
ER: I know! But I love it, I love that I discovered it by accident.
Instruments:
'He goes, "Oh, well grab whatever's lying around."'
RF: What's next for you as far instruments are concerned? Do you just kind of play it by ear and learn what you have to?
ER: I didn't necessarily set out to start moving away from the toy piano, but that's what I've been doing for a long time. Especially when you're touring, it's a little bit frustrating when you're limited in what you can do and I was feeling a little dissatisfied with just playing the toy piano for half an hour in front of people, so I started mixing it up. I sat down with this looping pedal and I thought to myself, okay, I'm going to learn this looping pedal and get really good at it and write a song, so I wrote a song with a looping pedal. Then accordion seemed like a natural step because it is keyboard-based.
When I go to Chicago to record my album I'm gonna be [recording] the song, the sad one, that I played on accordion, I'm going to record it on pump organ, because the person it's about has a pump organ in his room. His band plays singing wine glasses so I'm gonna put singing wine glasses in this song. It's gonna be the sweetest tribute. But as far as what's next… I can never think of anything that's coming up next. A friend of mine kind of dared me to play guitar. But – I don't know why – maybe because there are so many chicks that play the guitar I just feel an aversion to playing the guitar on stage. I am looking for a music box that is chromatic, that will play all kinds of weird chords.
RF: I've seen your background vocalist play a wine bottle. What inspires you and your band to pick up instruments that aren't actually instruments?
ER: The drummer, Robbie, is really creative and three months ago I saw him play some kind of liquor bottle at a show and I thought, oh, I should do that. If I remember correctly I was over at Robbie's place and I said something like "Oh, we should bust out a Jim Beam bottle like you did at your last show" and he goes, "Oh, well grab whatever's lying around," and I picked up a wine bottle, and Eve, my background singer, she just kind of tapped on it with a spoon and she was like, "I'm pretty sure this is out of tune." And she just kept doing it.
RF: Where did you meet all the members of your band?
ER: Oh, that's a good question. I met every single one of them at or through Azusa Pacific University, which is where I attended college. But a few of those people I met while I was attending classes and then a few of them that sort of came together after that. The main violinist that I feature at the shows is Alex, he's a professor at Azusa Pacific and he started playing for me maybe a year and a half or two years after I graduated.
Inspiration:
'I draw on things that I experience – mostly relationships
with men . . . a lot of the angst from that.'
RF: At your shows you usually introduce each song with a story behind it. Where do you find the inspiration for most of your music?
ER: I read an interview with PJ Harvey a long time ago, about how she writes these psychotic songs and she always claims – and I kind of believe it – that they're not about herself or about real life and I'm a little bit envious of that and it actually makes me feel very curious about her. It kind of leaves a lot up in the air. For me, it's pretty much the opposite. I draw on things that I experience – mostly relationships with men. I will draw a lot of what I'm writing about, a lot of the angst from that.
RF: Many of your songs are very light-hearted and fun in tone yet fairly sad or with haunting themes. How did you come to develop that sound?
ER: I guess the first [song] that comes to mind is Foot Soldiers, which has become a live favorite. I've had people tell me that I should never ever record Foot Soldiers because it should be one of those songs that I only play live. I sat down and was inspired by a Kate Bush video I'd watched from the late 70's when she was first starting out. I don't know why that particular video really inspired me, I think it was the melody and the way that she sings, the way that she carries herself, and I was like, I'm gonna write a fun song with a really catchy melody and I'm not gonna write it about myself. I thought I'd write about a person from history and the first person who came to mind was Napoleon Bonaparte. People actually think that Foot Soldiers is an anti war song and it's not. It's just about Napoleon Bonaparte. I've written a couple since then that I think are still not quite as fun and campy and super over the top kind of gay as Foot Soldiers, but they're really fun. You know, I'm not really sure where that comes from apart from trying to make light of the fact that maybe I'm in a lot of extreme emotional discomfort. That may sound really sad, but it is what it is, you know?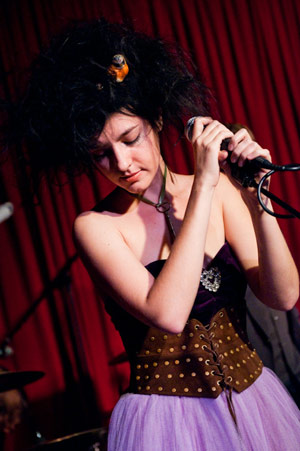 RF: You're very candid on stage when you're introducing very personal songs. Is there a process you went through that made you comfortable with telling an audience about the history of a song that makes you very sad or is a sad story for you?
ER: Yeah, I haven't always been comfortable with that. When I first started singing in cafes I was about 20 (it was around the time that I took my first vocal class) and I was only singing covers. I felt really naked and vulnerable singing my own songs, so I didn't do it. I gradually snuck in one or two of my own songs and then started increasing the number of originals that I was playing during a set. I'm not sure it was a process really as much as it was me going on stage long after the fact that I was comfortable being myself and writing my own songs and performing them for people for their . . . I don't know . . . for them to judge. I stopped caring about what people thought and I also realized that it was helpful for me as an audience member when I was in a crowd listening to a musician, if they were to briefly discuss a song that they had written so I could connect with it. And I wanted to be able to do that for people.
The last show that I did I sang [that] one song on accordion, I think back on that and I just can't believe that I did that. It was so magical because I knew that I wasn't good at accordion, so I was vulnerable on stage for that reason. I'd only taken one lesson and I was still kind of fumbling around on it. I just sat there and told the audience and friends how emotionally turbulent my life was at this time, and then I played that song and people were crying and it felt like . . . not that necessarily I'm like oh my god, I need to make people cry! But it was a really rewarding thing and I was really glad that I did that . . . that I was real and bare and exposed with the people that I was singing to about what I was going through because I don't think they would have caught it otherwise . . . . I still haven't played that song for the guy I wrote it for. I'm actually visiting him right now and he says he wants me to play it, and I'm like "Okay…" I'll wait 'til later.
RF: Are you influenced at all by the visual arts: films, paintings . . . .
ER: I'm mostly influenced by films. I can't even say any one film in particular . . . I'll usually be inspired by watching something emotionally charged and I'll write the song about it. Aesthetics are really important. I think it's important for every single artist. Also, with this economy, when you're doing a show or putting out a video and you're asking for people's support you want to give them something to look at. I've had a lot of people come up to me after a show . . . this one guy came up to me after a I played solo at some dive bar in Hollywood and he said "You remind me of a character that should have been in Big Fish." And I remember his compliment, and I've always thought of that since then. Yeah, I love the Tim Burton aesthetic for sure. Tim Burton's Nightmare Before Christmas was, I'm pretty sure, an influence for the animated music video we're finishing up right now for Black Rose.
On Screen:
'I actually cried when it was done.
Not because they were mean — they were totally
great and easy to work with.'
RF: How did you come up with that concept?
ER: I've been friends with a photographer in LA for a few years and she told me about a friend of hers that she had grown up with and that he was a student at USC film school. Long story short, the photographer hooked me up with the couple who have directed and produced the music videos I've been involved with. They came up with the concept for the Black Rose promotion video and I have never been more proud of anything I've produced in my entire life. I've always been a control freak and not really trusted anyone else to see my vision and I met up with them once or twice and I knew they were totally on board. So they directed and produced Cinnamon Bone and we released that back in May and we've been working on the stop motion animated film for Black Rose pretty much since then.
RF: How long did it take to shoot Cinnamon Bone?
ER: We shot it all in one day. Very early on when we were talking about it, they thought it would be very cool if we did it all in one take. And then we thought about it and I listened to the backwards, two-and-a-half-times faster than real time [version of the] song that I was going to be singing, and I thought I don't know if I want to try this in one take. So, because of me, we decided not to do it all in one take, and I ended up being fine. I learned all the gibberish I had to sing, and I'm pretty sure they have footage of me lip-synching it. But I think artistically it ended up still working well with them cutting away to different things. We shot on a Saturday I think for about 14 hours. Back in May. I actually cried when it was done. Not because they were mean — they were totally great and easy to work with — but it was kind of exhausting, and also I knew that I was going to be really proud of it, and I knew that the last closing shot of the video was going to be so powerful, and so perfect for what I was trying to communicate and what that song was about, that I felt very emotionally satisfied.
RF: Are you ever interested in collaborating on film work?
ER: Yes! Very much so. I've met a lot of people who have been involved in commercial film or short films and they always say "I'd love to use your music," but they never do! I think it would be a lot of fun and I don't know why it never ends up working out. It would be a great medium for independent artists. I think maybe especially the songs that I have with strings are dramatic enough that it makes sense to put that in a visual representation of art. I'm really excited to record the album because I feel there will be more to choose from for folks that are involved with film. It's not like just a girl and a toy piano. There are going to be strings, which I think are the best instruments. You can sing on a violin better than you can on any other instrument. It's a beautiful instrument . . . and I think there's something very physically beautiful about playing the violin.
The Album:
'There was something really exciting and enticing
about recording an album locked up in a studio in the dead of winter
when it's freezing balls outside and everyone [is] miserable.'
RF: What's next for you? I know you have an album to record in Chicago…
ER: I go to Chicago to meet with the engineer — face to face because we've never met in person before — the engineer who will be recording my album. And we're going to see Andrew Bird play at a church in Chicago, which will be magic, I'm sure. Then I go back to Chicago to record at the very beginning of January. After that I'd imagine I'll be shopping my album around to labels, which I know nothing about, so I hope it goes well.
RF: Now, why Chicago?
ER: It's mostly coincidence, but it also made sense to me. I've had a bunch of material that has been unrecorded for years and I thought that it would not take me so long to either find a really great manager or publicist or get signed to a decent label. It got to a point where I was like, okay, this is ridiculous. I need to record this stuff. Who do I want to record it? And if I get some people who have worked on other projects, it might be easier for the industry to take notice.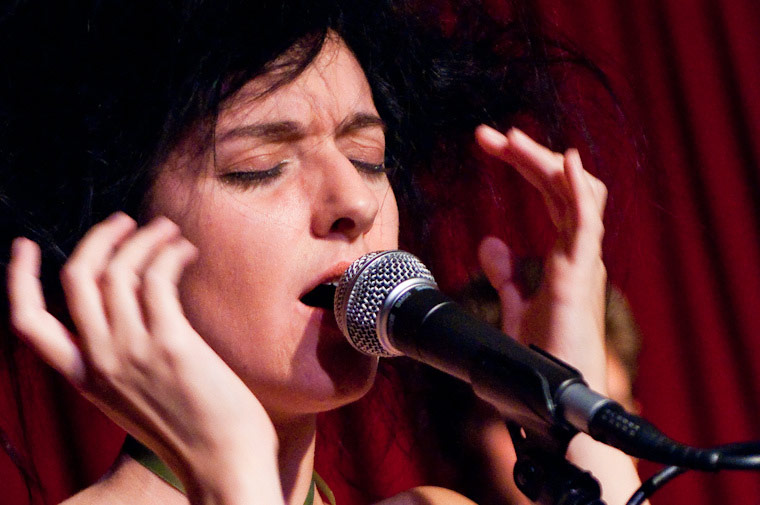 I literally sat down on my bed and took out the five to eight CDs that I listened to the most for the past six to eight years and I wrote down the producer credits and I made a list and we emailed the people on that list. A lot of the people on that list were people that had been involved with Andrew Bird, just because he's my favorite. Whoever he does work with they know how to record strings and that was important to me.
Mark Greenberg was definitely one of the top people on my list of folks that I was interested in working with and he immediately emailed me back and he was like "Oh yeah, I love toy piano, who plays toy piano?" And I told him he'd be surprised, actually. He has such an amazing personality. He's very warm and very quick to respond. I knew immediately that he was the right person for the project. Being personable and friendly is really important for me. I don't care about hipsters. I want to work with people who are nice and love music.
Mark responded very positively and very strongly, and I . . . for a long time I've thought about moving to Chicago because the few times I've performed there the [audience has] responded very positively. I don't know if it's because of how miserable the weather is or if it's just Chicago and the people are very cool and down to earth. So when I realized that Mark was in Chicago and that I'd have to fly out there to work with him I thought that was perfect.
And I know people out there so I have a place to stay and I know some other musicians. But also, he and I had discussed working on the album in November and there was something really exciting and enticing about recording an album locked up in a studio in the dead of winter when it's freezing balls outside and everyone [is] miserable and you can't do anything because it's about two degrees. I would imagine my string players and I will be flying to Chicago and doing shots of whiskey and just recording for like a week. And that sounds amazing to me! I think my music will probably benefit from it aesthetically: winter, snowy . . .
RF: You mentioned the five to eight CDs that you'd listened to… what are some of those?
ER: Well, it was an embarrassing amount of Andrew Bird, pretty much everything he's recorded in the last several years. Mark Greenberg was predominantly involved with Andrew Bird's 2005 album and that album is awesome and was one of them. It's beautiful. Another big one for me is Beach House.
RF: How many songs are you putting on this album?
ER: I actually don't know yet . . . I've made a list of songs that I have not recorded and there are 15, which is too much. I have a lot of material that should be recorded and we're trying to sort through which ones are a really good fit for the record. I think we'll end up narrowing it down to 12 or maybe 12 plus a cover. I know that I want my Nick Cave cover on there. When I made the list I realized I had about two albums worth of material but I didn't want to do that, [it] seemed a little too ambitious for a first recording experience. I don't know if you were at the show where I used the looping pedal for the first time, but I prefaced it by telling people that I'd just bought a looping pedal and this could be a train wreck or really cool. I think they were all nervous for me. That song gets a really strong response from audiences but I'm probably not going to put that on the record. I think that should probably be a live song.
RF: Do you have a title for your album?
ER: No, not yet.
RF: Is that something that you think you'll just come up with one day out of the blue, or will you put a lot of thought into it?
ER: I don't know . . . I feel like I'm really bad at coming up with titles for things. I didn't know what I wanted to call my last EP, Gild the Lily. I came up with it because a friend of mine in San Diego pointed out that the first song on the album is called Girl, and the fifth song is called Lily Love, and if you kind of combine those you get Gild the Lily. And I thought that was a really cute ironic name for the EP. So that was kind of because someone else suggested it. Who knows, maybe I'll let someone name my album.
For more information on Rickman, visit her RedFence Artist Spotlight and Photo Essay.

Rickman's Album Gild the Lily can be purchased here.
Posted on 03/24/2011 01:00 AM by Sarah Carman